Benefits of a Microtome Anti-Static Tray
The cleaning process of a paraffin tray during microtomy may seem like a mundane and ordinary task. However, when you consider the time it takes to clean the tray and the number of times per day this occurs, it can add up to a significant amount of time and resources each day.
Get Knowledge Pathway updates delivered directly to your inbox.
If you have viewed this educational webinar, training or tutorial on Knowledge Pathway and would like to apply for continuing education credits with your certifying organization, please download the form to assist you in adding self-reported educational credits to your transcript.
Anti-static microtome paraffin trays are designed to resist the adhesion of paraffin sections to the tray and allow for ease of cleaning. The following research was conducted to measure the different time measurements between the following methods: cleaning a standard paraffin tray; cleaning a standard paraffin tray with wet paper towels; and cleaning the anti-static tray.
Each method started by filling the paraffin tray with 7000 4-micron sections.
Image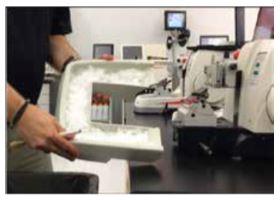 The tray was then emptied by first knocking it on the side of the waste bin 3 times to remove all loose paraffin. The timer was started when the remaining paraffin that was adhered to the tray was swept away with a brush and stopped when this process was completed. Each method using a standard tray, a standard tray with wet paper towel and an antistatic tray, was duplicated 15 times. The mean results were:
Standard tray: 16.07 seconds
Standard tray with wet paper towels: 11.33 seconds
Anti-static tray 4.8 seconds
Image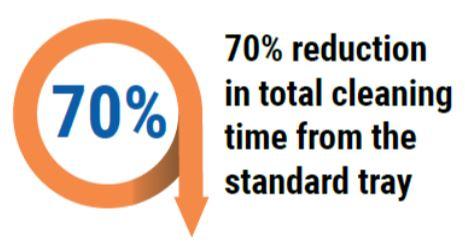 From the observed results, a 70% reduction in total cleaning time from the standard tray was calculated. The time savings can be further demonstrated by the number of times a tray is cleaned each day. If, for example, 10 standard trays are cleaned 10 times in an 8-hour shift, the resulting time would be 1607 seconds, or 26.8 minutes per 8 hours.
Image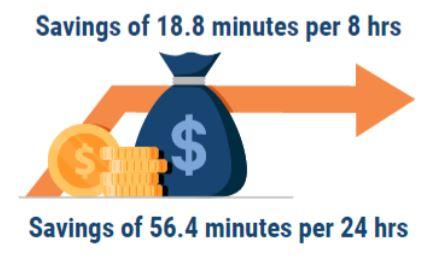 If the anti-static tray is used, the resulting cleaning time would be 8 minutes per 8 hours. This is a significant difference in time, freeing up 18.8 minutes every 8 hours, or 56.4 minutes during a 24-hour day. This results in a savings of nearly 1 hour of tray cleaning time every day.
Please, note that projected and realized results are specific to the institution where they were obtained and may not reflect the results achievable at other institutions.
Projections and Realized Results are specific to the institution where they were obtained and may not reflect the results achievable at other institutions.
Leica Biosystems Knowledge Pathway content is subject to the Leica Biosystems website terms of use, available at: Legal Notice. The content, including webinars, training presentations and related materials is intended to provide general information regarding particular subjects of interest to health care professionals and is not intended to be, and should not be construed as, medical, regulatory or legal advice. The views and opinions expressed in any third-party content reflect the personal views and opinions of the speaker(s)/author(s) and do not necessarily represent or reflect the views or opinions of Leica Biosystems, its employees or agents. Any links contained in the content which provides access to third party resources or content is provided for convenience only.
For the use of any product, the applicable product documentation, including information guides, inserts and operation manuals should be consulted.
Copyright © 2022 Leica Biosystems division of Leica Microsystems, Inc. and its Leica Biosystems affiliates. All rights reserved. LEICA and the Leica Logo are registered trademarks of Leica Microsystems IR GmbH.