An Introduction to Immunohistochemistry (IHC)
What is IHC?
Researchers are like detectives when searching for a new discovery in patient tissues. They use histological stains as clues for piecing together the story of what has happened in a tissue sample. This allows them to build a theory regarding what drives disease, and it then guides the next steps in translational research.
The first clue in the investigation comes from a routine or primary stain that uses two contrasting colors, bluish-purple (hematoxylin stains nuclei) and pink (eosin stains cytoplasm), defining structures and pattern changes in tissues (Figure 1a). This stain is called a Hematoxylin & Eosin or H&E stain. Investigation begins with the H&E-stained slide, and the pink and blue determine if further information is needed to clarify the findings.
Figure 1. Bowel adenocarcinoma using H&E and IHC stains
IHC binding
Immunohistochemistry (IHC) is a specialized secondary staining technique, using chromogens, or colored precipitates, to clue investigators into an irregularity observed from the primary stain. IHC also utilizes hematoxylin as a counterstain to dye the tissue section. The hematoxylin serves to contrast the chromogen, and it also localizes to the nuclei for chromatin staining (Figures 1b & 1c). IHC is a standard laboratory test that is made possible due to the biological immune response in mammals. A subset of mammalian blood cells called lymphocytes can recognize matter in the body, not part of the host or self. Host cells express structures that signal to the lymphocytes that the cells belong to itself preventing the immune response from initiating their destruction.
Figure 2. B-cell Lymphocyte
B-cell lymphocytes (Figure 2) manufacture specialized proteins called antibodies which bind to the non-self-substance, marking it for destruction by other lymphocytic cells. IHC provides a focused look at the tissue to determine if protein expression is present or absent using antibodies.
What are antibodies?
Antibodies are specialized proteins called immunoglobulins that are generated by B-cells in response to foreign matter known as an antigen. Antigens are foreign substances that illicit an immune response or antibody production. They are Y-shaped immunoglobulin proteins that bind to antigens (Figure 3). The area at the end of each Y-arm recognizes and binds specifically to the antigen or target. These antibody-antigen-binding areas fit together precisely, like a key into a lock, latching the foreign material to the antibody. The antigen, or foreign material, is flagged for removal by other specialized cells. This is the body's natural defence. IHC models this mechanism outside of the body on a tissue section mimicking the body's immune system to find (Antibody) and flag targets (Antigen).
Figure 3. Antibody binding
Antibody Creation
Generating high quality, specific, robust antibodies for research and discovery is a very rigorous process.
The relevant proteins that identify a particular tumor type are isolated, and these tiny protein fragments are used to inoculate a specialized lab animal to trigger their immune reaction. The animal's immune system will elicit an immune response, producing antibodies. Once there's a sufficient degree of these antibodies produced, the animal's splenic cells are harvested, and the B-cells are isolated. The cells are held but cannot grow in culture.
To grow or proliferate in culture, the splenic B-cells must be introduced to a specialized malignant myeloma cell. The malignant characterization of the myeloma cell line makes it immortal, but it does not have the ability to produce antibodies. The combination of the B-cells with the myeloma cells generates a fusion of immortalized B-cells that can produce specific antibodies. This new cell is called a hybridoma and it contains the best properties of both cell types. The hybridoma cell line can now grow in culture and produce the desired antibodies. These are the antibodies made to target proteins in diseased or pathological tissue sections.
Immunohistochemistry and Future Applications
Cells secrete a wide variety of proteins. Abnormal changes in a cell affect protein expression: some proteins cease expression, others overexpress, and some modify into a new protein. Classification of these changes is based on the area from which they originated. For each type of cancer within a classification, research has determined a typical protein expression profile that can be detected and visualized using antibodies & IHC technique (Figure 4).
The staining generated by using antibodies and IHC generate data that may be used to move to the next stage of a research project that utilizes more innovative technologies like multiplexing, IHC staining with multiple antibodies on the same slide. By maximizing the amount of data from a single tissue section, researchers can uncover spatial relationships leading to a deeper understanding of the disease process and tumor microenvironment.
Figure 4. IHC protein expression profile
Image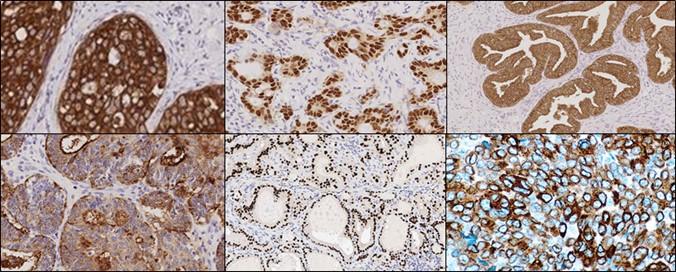 Leica Biosystems content is subject to the Leica Biosystems website terms of use, available at: Legal Notice. The content, including webinars, training presentations and related materials is intended to provide general information regarding particular subjects of interest to health care professionals and is not intended to be, and should not be construed as, medical, regulatory or legal advice. The views and opinions expressed in any third-party content reflect the personal views and opinions of the speaker(s)/author(s) and do not necessarily represent or reflect the views or opinions of Leica Biosystems, its employees or agents. Any links contained in the content which provides access to third party resources or content is provided for convenience only.
For the use of any product, the applicable product documentation, including information guides, inserts and operation manuals should be consulted.
Copyright © 2023 Leica Biosystems division of Leica Microsystems, Inc. and its Leica Biosystems affiliates. All rights reserved. LEICA and the Leica Logo are registered trademarks of Leica Microsystems IR GmbH.