The Importance of Cytogenomics in the Diagnostic Pathway
Cytogenomics is the study of genetics that evaluates chromosomes and their relation to diseases. Through a combined analysis of chromosomes and molecular tests, clinicians can better understand and treat disease states. This complex, but necessary, part of the diagnostic pathway is critical because Cytogenomics has a direct impact on diagnosis.1
Get Knowledge Pathway updates delivered directly to your inbox.
If you have viewed this educational webinar, training or tutorial on Knowledge Pathway and would like to apply for continuing education credits with your certifying organization, please download the form to assist you in adding self-reported educational credits to your transcript.
How does diagnosis of results occur?
Changes in chromosomes number or structure helps us to diagnose disease states, such as cancer and congenital disorders. Cytogenomics explores 2 aspects of human DNA to guide a diagnostic process: chromosome evaluation and molecular testing, such as Fluorescence In-Situ hybridization (FISH). Chromosomes are a "macro" look at the 23 paired compliments of human DNA.
Image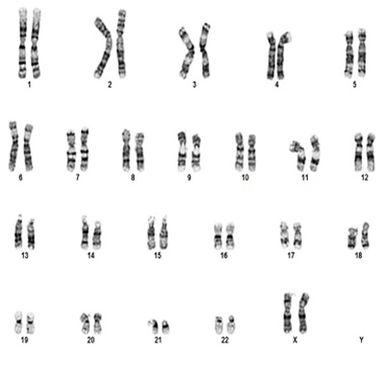 After specimen processing in the laboratory occurs, chromosomes can be arranged and analyzed by size, centromeric location and banding pattern into an image called a karyotype. Chromosome analysis of metaphase spreads and karyotyping provides a more global overview or "map of the territory" to help navigate the diagnostic process.
Image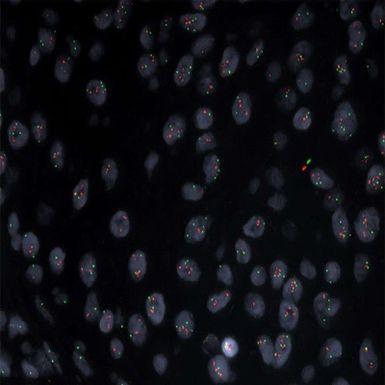 Molecular testing by  FISH is a "micro" look at highly specific DNA sequences or genes. By attaching a fluorescently labelled probe, or tag, to the targeted area on the chromosome of interest, it can be visualized under a fluorescent microscope.  FISH testing provides the specific "street address" or location on the chromosome map that defines with great specificity clinical information to assist in generating a diagnosis.
How are results determined? The Cytogenomics diagnostic pathway
Chromosome analysis
Cytogenomic analysis can be ordered from a variety of cell sources, including peripheral blood lymphocytes, bone marrow, ascites, skin, and solid tumors. Each of these specimen types are grown, or cultured, in different ways in the Cytogenomics laboratory to obtain metaphase spreads for chromosome analysis and/or FISH. Cultured cells are processed and "fixed" with a 1:1 methanol:acetic acid solution, then dropped onto glass slides under consistent humidity to allow the chromosomes to spread for visualization. The glass slides with the chromosome spreads are then colored with a contrasting stain and visualized under a light microscope. Some solid tumors are not cultured and are embedded in a wax paraffin block. Those blocks are then cut into thin sections and placed on a positively charged glass slide and used specifically for FISH assays. Chromosome analysis is performed by a highly trained technologist and assisted with a digital imaging system using highly intuitive chromosomal software. Utilization of digital solutions increase efficiencies and can be easily integrated with high speed slide scanning systems and automated analysis software platforms to speed the time to result to treating clinicians.
FISH analysis
Fluorescence In-Situ Hybridization, or  FISH, assays can be done on several types of specimens, cultured chromosomes slides, as described above, or Formalin Fixed Paraffin Embedded Tissue (FFPET). Chromosome  FISH is performed on cells captured in metaphase or interphase cycles of division. Metaphase cells will have dividing chromosomes on which we can visualize fluorescent probes. Interphase  FISH will not offer mitotic cells, but probes can still be visualized for diagnostic analysis. FISH is analyzed on a florescent microscope with a digital imaging system, like chromosomes.
FFPET FISH is more complex in preparation and in analysis. Some solid tumors are not cultured and are embedded in a wax paraffin block. Those blocks are then cut into thin sections and placed on a positively charged glass slide and used specifically for FISH assays. FFPET slides must be deparaffinized, pretreated, denatured, and hybridized for FISH probes to be applied and analyzed. This historically has been a time consuming, highly manual process with great variation in techniques and results. Automation has had a great impact on this area of FISH diagnostics, offering both fully-automated and semi-automated paraffin FISH processing. These automated solutions have greatly improved quality and efficiencies of performing FFPET  FISH assays by decreasing the variability of temperatures, timing of solution changes, and manual handling.
Cytogenomic diagnostics- why is it important?
Chromosomes and  FISH results work together to inform the clinical team that the team makes complex diagnostic treatment determinations. The insight Cytogenomic analysis yields powerful and clinically significant documentation of chromosomal states that could indicate disease and clarify management pathways. Cytogenomics has the duty to skillfully examine, analyze, and summarize data to expedite the diagnostic pathway.
Leica Biosystems Knowledge Pathway content is subject to the Leica Biosystems website terms of use, available at: Legal Notice. The content, including webinars, training presentations and related materials is intended to provide general information regarding particular subjects of interest to health care professionals and is not intended to be, and should not be construed as, medical, regulatory or legal advice. The views and opinions expressed in any third-party content reflect the personal views and opinions of the speaker(s)/author(s) and do not necessarily represent or reflect the views or opinions of Leica Biosystems, its employees or agents. Any links contained in the content which provides access to third party resources or content is provided for convenience only.
For the use of any product, the applicable product documentation, including information guides, inserts and operation manuals should be consulted.
Copyright © 2023 Leica Biosystems division of Leica Microsystems, Inc. and its Leica Biosystems affiliates. All rights reserved. LEICA and the Leica Logo are registered trademarks of Leica Microsystems IR GmbH.