Digital Pathology and Interoperability - Success Factors for the Implementation of Digital Pathology
When implementing a digital pathology solution in the laboratory, interoperability plays a significant role in the project's overall success. Whether sharing Whole Slide Images (WSI) internally within your laboratory or externally to organizations, the Interoperability Framework 5-layer model can help identify areas of focus as you prepare for your digital pathology implementation. This model systematically addresses organizational strategies and stakeholders, required processes, information exchanges, application requirements, and IT infrastructure needs.
Get Knowledge Pathway updates delivered directly to your inbox.
If you have viewed this educational webinar, training or tutorial on Knowledge Pathway and would like to apply for continuing education credits with your certifying organization, please download the form to assist you in adding self-reported educational credits to your transcript.
Key Learnings:
What is digital pathology?
What is interoperability?
How to implement the interoperability framework model
Internal and external aspects of interoperability
Interoperability best practices
Example: Dutch National WSI exchange Project PIE
Image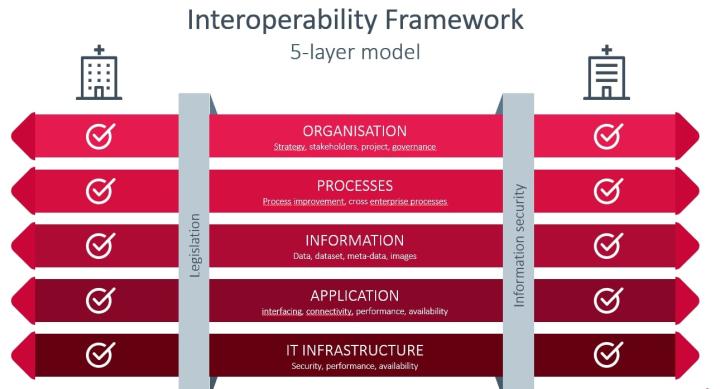 Download the Digital Pathology and Interoperability Framework 5-layer Model now!
Leica Biosystems Knowledge Pathway content is subject to the Leica Biosystems website terms of use, available at: Legal Notice. The content, including webinars, training presentations and related materials is intended to provide general information regarding particular subjects of interest to health care professionals and is not intended to be, and should not be construed as, medical, regulatory or legal advice. The views and opinions expressed in any third-party content reflect the personal views and opinions of the speaker(s)/author(s) and do not necessarily represent or reflect the views or opinions of Leica Biosystems, its employees or agents. Any links contained in the content which provides access to third party resources or content is provided for convenience only.
For the use of any product, the applicable product documentation, including information guides, inserts and operation manuals should be consulted.
Copyright © 2023 Leica Biosystems division of Leica Microsystems, Inc. and its Leica Biosystems affiliates. All rights reserved. LEICA and the Leica Logo are registered trademarks of Leica Microsystems IR GmbH.