Image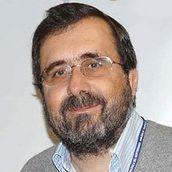 Marcial García-Rojo
Dr. García-Rojo is Head of the Pathology Department at Hospital Universitario Puerta del Mar, in Cádiz, Spain. 
He is the Past-President of the European Society of Digital and Integrative Pathology, and past-President of the Ibero-American Association for Telemedicine and Telehealth (IATT).
Dr. García-Rojo Is the former chair of the European project EURO-TELEPATH, Anatomic Telepathology Network, Action IC0604 of the European Cooperation in the field of Scientific and Technical Research (COST). 
He received his PhD from Universidad Autónoma, Madrid. Dr. García-Rojo's main research areas are medical informatics standards in digital pathology and molecular pathology. He has published three books on medical informatics, five electronic publications (CD/DVD) and is the author of 23 book chapters and 125 scientific journal papers.
Published Pieces by Marcial García-Rojo