Using Lean Tools to Identify Inefficiencies in IHC Processing
The Leica Biosystems Process and Solutions Optimization team partnered with a medical university to examine how to optimize their IHC lab. Laboratory leadership is interested in gaining efficiencies in the immunohistochemistry and special stain lab as volumes increase. The Process and Solutions Optimization team identified some ways to help this laboratory recognize and overcome areas where inefficiencies have hindered their ability to increase capacity.
Image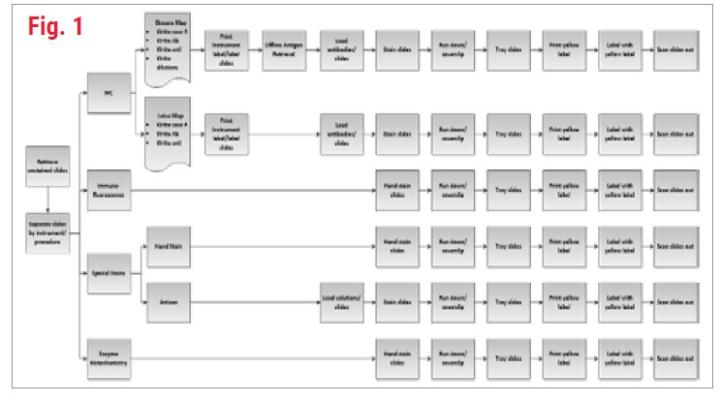 As Figure 1 shows, there are myriad steps found in the special stain/ IHC lab. The divergent work paths reflect the number of independent processes performed by, generally, two technicians. Many of the processes are manual and involve slide sorting, hand writing, and recopying information on paper. For a run of 149 total slides, 42 minutes was spent organizing information to prepare the run.
As seen in Figure 2, by eliminating the hand-writing, paper, and relabeling, the complexity of processing the slides is greatly reduced.
Image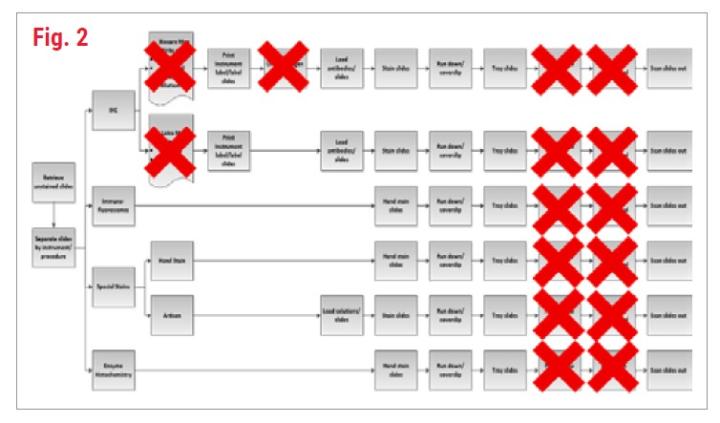 Summary
By reducing handwriting and paper, along with utilizing a single platform IHC system, the hands-on tech time was reduced by 40% with current processes (from 52 minutes to 31 minutes).
By eliminating additional waste steps such as double (or triple) labeling, the hands-on tech time was further reduced another 21 minutes bringing the total hands-on time to 10 minutes, an 81% reduction in hands-on tech time.
Projections and Realized Results are specific to the institution where they were obtained and may not reflect the results achievable at other institutions.
Leica Biosystems content is subject to the Leica Biosystems website terms of use, available at: Legal Notice. The content, including webinars, training presentations and related materials is intended to provide general information regarding particular subjects of interest to health care professionals and is not intended to be, and should not be construed as, medical, regulatory or legal advice. The views and opinions expressed in any third-party content reflect the personal views and opinions of the speaker(s)/author(s) and do not necessarily represent or reflect the views or opinions of Leica Biosystems, its employees or agents. Any links contained in the content which provides access to third party resources or content is provided for convenience only.
For the use of any product, the applicable product documentation, including information guides, inserts and operation manuals should be consulted.
Copyright © 2023 Leica Biosystems division of Leica Microsystems, Inc. and its Leica Biosystems affiliates. All rights reserved. LEICA and the Leica Logo are registered trademarks of Leica Microsystems IR GmbH.