Image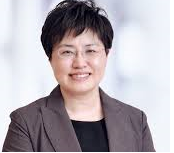 Prof. Kyoung Bun Lee
Clinical Professor, Pathology, Seoul National University College of Medicine
Professor Lee graduated from Seoul National University College of Medicine in 2002 and is a Clinical Professor at Seoul National University Hospital (SNUH). She specialized in hepato-pancreatic biliary pathology, renal pathology, and bone & soft tissue pathology.
In Seoul National University Hospital (SNUH), Prof Lee manages the pathology department's laboratory automation and computerization system since 2010. She is also on the Korean Society of Pathologists (KSP) committee board as Information Director.
Prof Lee led the digital pathology project at SNUH in 2018, where she introduced a digital pathology system for primary diagnosis; a first in Korea. Besides heading the digital pathology project at SNUH, Prof Lee is passionate about advocating the value of digital pathology, automation of pathology workflow for primary diagnosis and establishment of data-pipeline for computational pathology. 
Published Pieces by Prof. Kyoung
Want us to feature your writing?
We are looking for more great writers to feature here. Send us a submission and we'll be in touch!
Like what you see?
Get more Knowledge Pathway content delivered directly to your inbox. Unsubscribe at any time.