FDA to Exercise Enforcement Discretion
Enabling remote diagnosis using APERIO GT 450. 
Fast forward to next generation imaging. The Aperio GT 450 enables histotechnicians to complete scanning tasks quickly and with confidence leveraging a 32-second scan speed*. Output 81 slides/hr at 40x* delivering high quality images with Leica optics and with an IT architecture that is secure and scalable. From the pathology lab to the IT room, the Aperio GT 450 is designed to scale up digital pathology operations. 
*15mm x 15mm area at 40x.
Image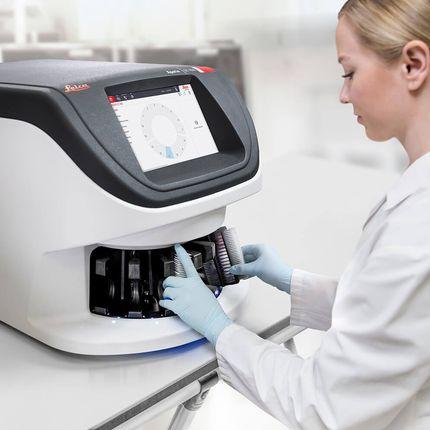 Pathologists Can Safely Diagnose Cases from Home Using a Consumer Monitor and PC.
Enabling remote diagnosis using Aperio WebViewer
Whether supporting a single institute installation or a multi-site hub and spoke architecture, the Aperio digital pathology range of web-based software solutions provide an enterprise-level platform for your needs. Flexible deployment options facilitate on premise, hosted and cloud-based SaaS, so that you can choose the solution that is right for you.
Image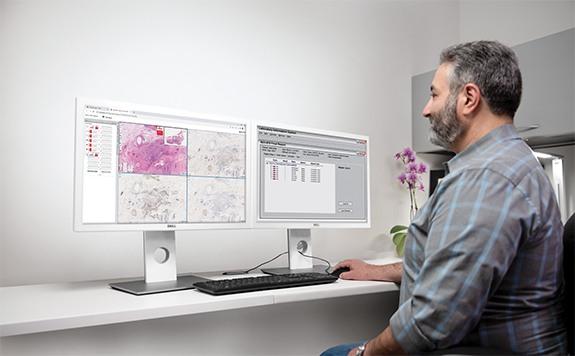 Supply Continuity and Service
We are actively keeping track of and managing our business continuity plan to ensure that our customers have access to the products they need to help patients. We are taking every step possible to mitigate any impact from the virus on our supply chain.
Currently, all our production sites are operational. We are closely following guidance from international health organizations and local governments to ensure the safety of our associates as they continue to produce essential product.
Our Service associates are following our business continuity plans to ensure the safety of their customers and teammates. They will follow all customer protocols related to personal protective equipment aligned with CDC and WHO site risk levels.
We will continue to monitor the situation in the coming days and weeks. If you require further detail about product supply, please reach out to your Leica Biosystems representative or visit the Contact Us page on our website.
Event and Conference Participation
In light of the COVID-19 pandemic, we have made the difficult decision to cancel our participation in all face-to-face tradeshows and industry events until further notice. We will communicate about future virtual event opportunities via email.
Leica Biosystems Site Visitor Guidance

We are following guidelines from international health organizations, local governments and our parent company, Danaher, to minimize risk of exposure at our global sites. You may be required to complete a form before you visit a Leica Biosystems facility and some of our sites may be restricting visitors entirely for the continued safety of our associates. Please reach out to your local contact for more information.