What is Digital Pathology?
Digital pathology incorporates the acquisition, management, sharing and interpretation of pathology information — including slides and data — in a digital environment. Digital slides are created when glass slides are captured with a scanning device, to provide a high-resolution digital image that can be viewed on a computer screen or mobile device.
Get Knowledge Pathway updates delivered directly to your inbox.
If you have viewed this educational webinar, training or tutorial on Knowledge Pathway and would like to apply for continuing education credits with your certifying organization, please download the form to assist you in adding self-reported educational credits to your transcript.
Utilizing high-throughput, automated digital pathology scanners, it is possible to capture an entire glass slide, under bright field or fluorescent conditions, at a magnification comparable to a microscope. Digital slides can be shared over networks using specialized digital pathology software applications. Automated image analysis tools can also be applied to assist in the interpretation and quantification of biomarker expression within tissue sections.
The history of digital pathology goes back over 100 years, when specialized equipment was first used to capture images from a microscope onto photographic plates. The concept of telepathology — transmitting microscope images between remote locations — has been around for nearly 50 years. However, it is in the past decade that pathology has begun to undergo a true digital transformation, moving away from analog into an electronic environment.
The rapid progress of whole slide imaging (WSI) technology, along with advances in software applications,  LIS / LIMS  interfacing, and high-speed networking, have made it possible to fully integrate digital pathology into pathology workflows.
Digital pathology enables pathologists to engage, evaluate, and collaborate rapidly and remotely, with transparency and consistency, thus improving efficiency and productivity. The future of digital pathology could eventually encompass enhanced translational research, computer aided diagnosis (CAD) and personalized medicine.
What are the Benefits of Digital Pathology?
Glass slides aren't going anywhere, and for good reason. Pathology starts with a collected tissue. Glass slides are necessary, even if they are later transferred to a digital scan. But today's pathology goes beyond tissue or scans. It's all about improving quality, productivity and more.
Consider the way today's pathology is changing:
There is a workforce shortage of pathologists, with more pathologists retiring than those entering the field

Digital technology has increased in adoption, delivering improved quality and innovation
Today's pathology needs new approaches. And when pathologists stop short of adopting digital pathology fully, they miss out on the benefits that cannot be achieved with glass slides.
Digital pathology offers benefits not easily achieved with glass slides alone. Take a look at the many advantages of digital pathology versus microscopy alone.
Digital pathology can improve quality in meaningful ways:
Image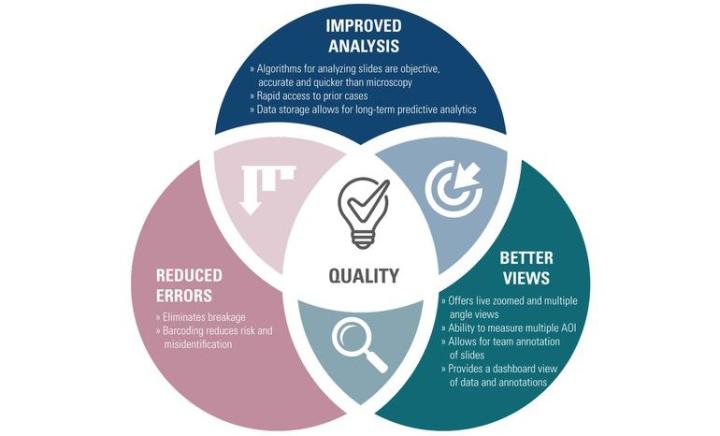 Improved Analysis:
Algorithms for analyzing slides are objective, accurate and quicker than microscopy

Rapid access to prior cases

Data Storage allows for long-term predictive analytics
Reduced Errors:
Eliminates breakage

Barcoding reduces risk of misidentification
Better Views:
Offers live zoomed and multiple angle views

Ability to measure multiple AOI

Allows for team annotation of slides

Provides a dashboard view of data and annotations
One of the biggest benefits of digital pathology is the many ways it improves productivity in the short and long term:
Image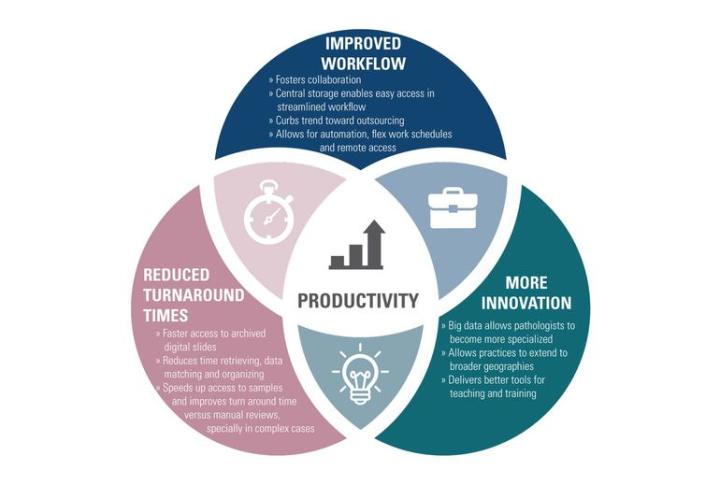 Improved Workflow
Fosters collaboration

Central storage enables easy access in streamlined workflow

Curbs trend toward outsourcing

Allows for automation, flex work schedules and remote access
Reduced Turnaround Times:
Faster access to archived digital slides

Reduces time retrieving, data matching and organizing

Speeds up access to samples and improves turnaround time versus manual reviews, especially in complex cases
More Innovation:
Big data allows pathologists to become more specialized

Allows practices to extend to broader geographies

Delivers better tools for teaching and training
"Glass slides work fine" is often a way of saying that pathologists can't justify the investment in digital solutions. But often they don't consider some of the long-term cost benefits of digitalization, such as:
It eliminates courier service

It speeds up workflow

Travel for peer reviews is reduced

New business opportunities are opened up through the ability to geographically extend the practice

Avoid the need for overtime
The 7 Steps to Digital Pathology
Barriers to Adoption of Digital Pathology
"There's nothing wrong with the microscope."
"Our Information Systems won't integrate with other technology."
"Change is hard."
These are a few of the concerns pathologists have about digital pathology. But as they learn more, pathologists are finding that their apprehension about going digital is holding them back from reaping significant benefits. They are also discovering that old methods can't compete against today's digital solutions.
And even when pathologists realize that digital methods offer increased speed, accuracy, efficiency and collaboration, the evolution can seem daunting.
As industry leaders with the most widely adopted digital pathology solution, we know the challenges of full adoption.
The process of embracing digital pathology can transform an organization.So, it is important to know the steps and how to get started.
Image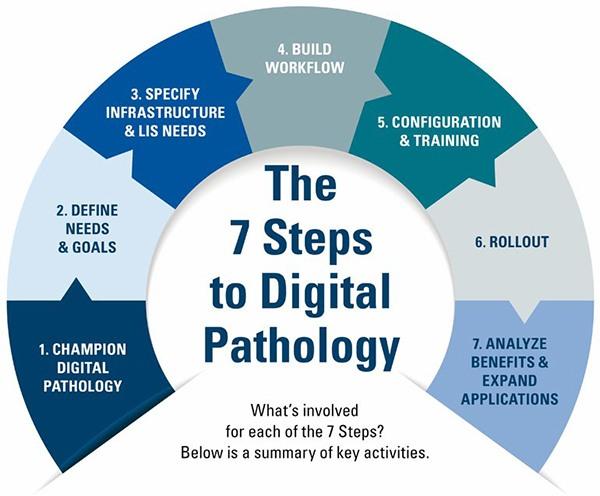 STEPS

KEY COMPONENTS

1. Champion digital pathology

Choose both an executive sponsor and pathologist
Understand the benefits of digital pathology
Read case studies and research best practices
Survey barriers and high-level needs
Use visual management to create a new workflow
Compile the business case
Seek buy-in, get feedback

2. Define needs and goals

Map out a detailed new workflow
Initiate needs list including equipment, processes, teams/roles
Pilot a proof of concept test

3. Specify infrastructure and Laboratory Information Systems (LIS) needs

Select a project technology leader and ensure buy-in from IT
Determine networking, storage and security needs
Compare requirements to tools, budgets and timelines
Prioritize specifications for short and long term

4. Build workflow

Write a statement of work for each phase of digital conversion (image acquisition, pre-analytics, image management and analysis)

5. Configuration and training

Prior to full adoption, use both digital and non-digital processes. Compare, analyse and refine digital workflow
Offer lunch and learn, peer to peer, tutorial and other training methods for stakeholders in all locations
Hold on-going status meeting to determine progress and gaps
Recognize that full conversion takes time

6. Rollout

Fully convert manual processes to digital
Leverage benefits at full rollout volume

7. Analyze and expand applications

Review speed, volume, and cost improvements
Measure reductions in overtime and damaged slides
Survey customer satisfaction
Use more accessible data to increase collaboration
Gain new insights from advanced data analytics
Analyze the process to uncover insights. Collaborate with providers on upgrades and refinements.
What are the future trends for Digital Pathology and I.H.C.?
Image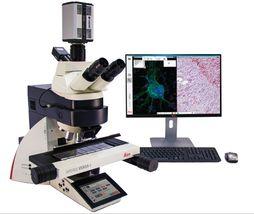 Digital pathology is increasingly used by large biopharmaceuticals and top clinical research organizations (CROs) to streamline drug development processes in discovery, pre-clinical and clinical trials.
Particular opportunity exists for the potential future use of digital pathology for quantitative analysis of emerging companion diagnostics and novel theranostics. This opportunity may become especially relevant with the advent of assays which are difficult to discern with the human eye, such as multiplex, or markers which exhibit diffuse staining characteristics across multiple cellular compartments of which, for example, only one may be clinically relevant.
The increasing complexity of such assays is driving the development of digital pathology solutions with advanced high-throughput image capture (brightfield, fluorescent or multispectral) coupled with pattern recognition to morphologically identify relevant tissue types and individual cellular compartments followed by the ability to quantify (IHC) intensity of staining.
This is leading to the advent of digital pathology systems that can offer a clinically relevant diagnostic or prognostic score by comparing sample analysis output against a standard curve derived from clinical data. Indeed, much of the untapped potential of digital pathology may be in the potential ability to generate diagnostic or prognostic scores by combining IHC data and images with that of other modalities such as FACS or MALDI-TOF, in an effort to achieve more discrete patient stratification into clinically relevant groups. Rather than replacing IHC, new molecular tests and the integration of digital pathology may offer complementary diagnostic tools for the future.
Digital Pathology Has Already Helped Revolutionize Education
The education sector was one of the earliest adopters of digital pathology, employing it throughout the full spectrum of histopathology learning from undergraduate and post graduate education through to continuous professional development (CPD) and external quality assurance (EQA).
Traditional education using light microscopes and glass slides has many challenges, including access to slides and variable course content, which can be overcome with the use of digital pathology. These include:
Standardization of course material: With digital pathology, each participant sees the exact same content, as opposed to similar slides cut from the same tissue block, which may or may not exhibit the same morphological and biomarker expression patterns. Standardization of the content ensures that each participant has the same learning opportunities and quality of education. In addition, digital pathology facilitates the inclusion of rare cases in course material as only one digital copy of the slide is required, compared to multiple glass slides for a standard class size.

Improved Accessibility: Digital pathology facilitates greater access to tissue and slide-based material outside of the laboratory and traditional tutorial times. Users can access their digital course content via the internet on a standard web-browser, via personal computer, tablet, or smartphone devices, giving them the ability to view slides anytime, anywhere. The use of digital pathology to support CPD and EQA schemes helps to reduce circulation turnaround time and costs, as the slides no longer have to be physically shipped from one site to the other, but rather can be efficiently shared with multiple locations simultaneously.

Improved Learning: Moving from a physical to a digital environment for histopathology education offers many benefits over traditional light microscopy and glass slide teaching methods. Users can view multiple digital slides simultaneously, aligning them side-by-side for improved comparison between different tissue sections and immunohistochemistry (IHC) markers (Figure 6).
Educators can annotate significant regions of interest, right down to the cellular and sub-cellular level, which cannot be done readily with glass slides (Figure 7). And with specialized digital pathology educational software applications, questions and tutorials can be embedded into the digital slides, providing contextual information and direct links to tissue or cellular features referenced in the questions.
Leica Biosystems Knowledge Pathway content is subject to the Leica Biosystems website terms of use, available at: Legal Notice. The content, including webinars, training presentations and related materials is intended to provide general information regarding particular subjects of interest to health care professionals and is not intended to be, and should not be construed as, medical, regulatory or legal advice. The views and opinions expressed in any third-party content reflect the personal views and opinions of the speaker(s)/author(s) and do not necessarily represent or reflect the views or opinions of Leica Biosystems, its employees or agents. Any links contained in the content which provides access to third party resources or content is provided for convenience only.
For the use of any product, the applicable product documentation, including information guides, inserts and operation manuals should be consulted.
Copyright © 2023 Leica Biosystems division of Leica Microsystems, Inc. and its Leica Biosystems affiliates. All rights reserved. LEICA and the Leica Logo are registered trademarks of Leica Microsystems IR GmbH.