Novocastra p16 Antibody Demonstrated an Agreement of 98% with the Roche p16 Antibody
The study compared the percentage agreement rates of Novocastra's p16 (6H12) IVD solution with Roche CINtec® Histology p16 assay on 170 oropharyngeal cancer cases.
Webinar Transcription
Selvam Thavaraj, PhD FDSRCS FRCPath
Senior Lecturer in Oral & Maxillofacial Pathology, King's College London
Honorary Consultant in Head & Neck Pathology at Guy's & St Thomas' NHS Foundation
Image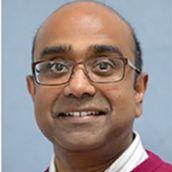 Research interests
Biomarkers and the role of microbes in head and neck premalignancy and cancer
Diagnostic and prognostic aspects of human papillomavirus in head and neck cancer
The webinar will include
Method used to conduct the study including study parameters
Discussion and results, including agreement with HPV DNA  ISH  and PCR
A chance to submit questions for feedback on the topic
Leica Biosystems content is subject to the Leica Biosystems website terms of use, available at: Legal Notice. The content, including webinars, training presentations and related materials is intended to provide general information regarding particular subjects of interest to health care professionals and is not intended to be, and should not be construed as, medical, regulatory or legal advice. The views and opinions expressed in any third-party content reflect the personal views and opinions of the speaker(s)/author(s) and do not necessarily represent or reflect the views or opinions of Leica Biosystems, its employees or agents. Any links contained in the content which provides access to third party resources or content is provided for convenience only.
For the use of any product, the applicable product documentation, including information guides, inserts and operation manuals should be consulted.
Copyright © 2023 Leica Biosystems division of Leica Microsystems, Inc. and its Leica Biosystems affiliates. All rights reserved. LEICA and the Leica Logo are registered trademarks of Leica Microsystems IR GmbH.