Identifying Process Improvements in Breast Imaging
The Leica Biosystems Process and Solutions Optimization Team partnered with the Southern Ohio Medical Center (SOMC) in Portsmouth, Ohio to evaluate the opportunities for process improvement in their Breast Imaging Department.
Get Knowledge Pathway updates delivered directly to your inbox.
If you have viewed this educational webinar, training or tutorial on Knowledge Pathway and would like to apply for continuing education credits with your certifying organization, please download the form to assist you in adding self-reported educational credits to your transcript.
The hospital identified opportunities for improvement by comparing their internal data with standards and benchmarks provided by the National Consortium of Breast Centers (NCBC). The Leica Biosystems team of clinically trained, black belt professionals conducted a three day on site visit at the breast center and found several opportunities for improvement related to cross functional patient management. The following flow chart illustrates SOMC's interdepartmental hand offs:
Image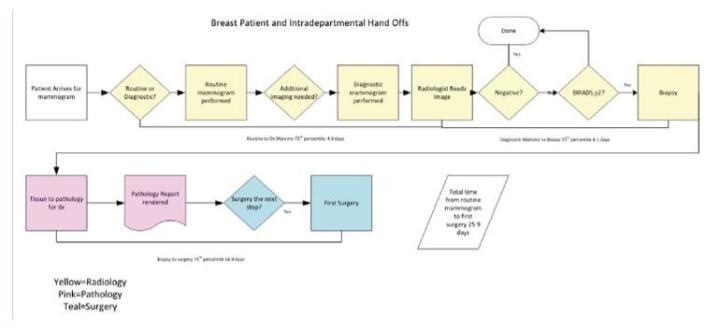 We discovered that by sharing data on national metrics, paired with our observational data on internal processes, the imaging center was able to improve timeliness in the following area: Breast imaging and reporting system (BIRADs), from 0 (indeterminate reading) to final BIRADs interpretation improved from ~22 days to 6.5 days, resulting in patients and their doctors receiving definitive results of the mammography quicker and if appropriate, could initiate treatment more promptly.
Image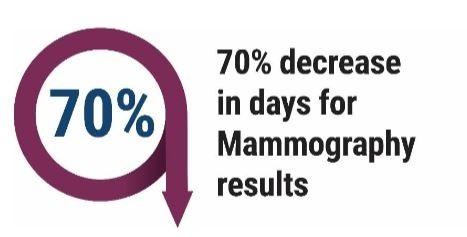 Leica Biosystems' partnership with Southern Ohio Medical Center is an example of how we establish ourselves as an ethically credible and valued partner that understands and recognizes challenges in breast imaging centers. As we continue to work with our clients, we constantly challenge ourselves and our clients to innovate through our pillars of improving quality, integrating solutions and optimizing efficiencies.
Projections and Realized Results are specific to the institution where they were obtained and may not reflect the results achievable at other institutions.
Leica Biosystems Knowledge Pathway content is subject to the Leica Biosystems website terms of use, available at: Legal Notice. The content, including webinars, training presentations and related materials is intended to provide general information regarding particular subjects of interest to health care professionals and is not intended to be, and should not be construed as, medical, regulatory or legal advice. The views and opinions expressed in any third-party content reflect the personal views and opinions of the speaker(s)/author(s) and do not necessarily represent or reflect the views or opinions of Leica Biosystems, its employees or agents. Any links contained in the content which provides access to third party resources or content is provided for convenience only.
For the use of any product, the applicable product documentation, including information guides, inserts and operation manuals should be consulted.
Copyright © 2023 Leica Biosystems division of Leica Microsystems, Inc. and its Leica Biosystems affiliates. All rights reserved. LEICA and the Leica Logo are registered trademarks of Leica Microsystems IR GmbH.