Image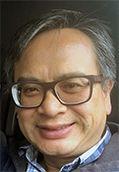 Kenneth R. Kao
Dr. Kenneth Kao has over 45 publications including book chapters in the peer-reviewed literature as well as a patent for cancer detection. Dr. Kao's recent research is focused on the effects of hormones on the initiation of prostate cancer.
Dr. Kao received his education and training in developmental biology from the University of Toronto, and the Marine Biological Laboratory in Woods Hole, MA. He received an MRC postdoctoral fellowship at the University of Cambridge, U.K. and subsequently completed an NCIC fellowship at the Mount Sinai Hospital in Toronto. In 1993, he was recruited to the Terry Fox Cancer Research Labs of Faculty of Medicine at Memorial University, where he is a full Professor. In 2011, Dr. Kao was appointed as the Scientific Director of the clinical IHC lab at the Health Sciences Centre of Eastern Health, which performs all of the cancer patient immunohistochemical testing for the province of Newfoundland and Labrador.
Published Pieces by Kenneth R.