Pathologist and Machine – the Perfect Partnership?
In this chapter, Dr. Williams explores opportunities and questions around the use of digital pathology (DP), whole slide imaging (WSI), and recent advances in artificial intelligence (AI). Dr. Williams explores how DP and AI can support pathologists – not replace them – and how DP and AI can be transformative for healthcare managers, achieving world-class outcomes for patients and a truly twenty-first century pathology service.
Get Knowledge Pathway updates delivered directly to your inbox.
Image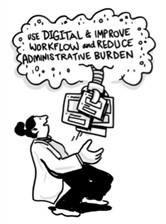 "Archives of high-resolution diagnostic images have the potential to provide real world training datasets that can be used to create AI apps. For example, an app might prescreen lymph node tissue to detect regions suspicious for tumour metastasis. Ideally, such apps fit into the workflow that is enabled by DP, allowing the app to become an important part of the diagnostic process. Some apps of this type have already been developed, executing tumour detection, diagnosis, grading as well as prognostic and predictive tasks.4 But there is much more to come. With the development of deep learning, we are starting to use AI to carry out more complex tasks in histology image recognition and classification. In deep learning, the systems created behave much more like the human brain, with layers of 'neural' (computational) networks that can develop their own algorithms without the need for algorithms to be inputted beforehand. Generating algorithms based on the large amount of data currently being gathered by research labs and hospitals also has the capacity to build our knowledge of cancer and cancer sub-types."
4 Ibrahim A, Gamble P, Jaroensri R et al. Artificial intelligence in digital breast pathology: Techniques and applications. The Breast 2020;49:267–273.
Image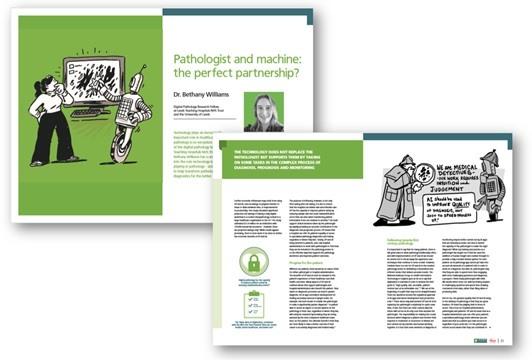 Leica Biosystems Knowledge Pathway content is subject to the Leica Biosystems website terms of use, available at: Legal Notice. The content, including webinars, training presentations and related materials is intended to provide general information regarding particular subjects of interest to health care professionals and is not intended to be, and should not be construed as, medical, regulatory or legal advice. The views and opinions expressed in any third-party content reflect the personal views and opinions of the speaker(s)/author(s) and do not necessarily represent or reflect the views or opinions of Leica Biosystems, its employees or agents. Any links contained in the content which provides access to third party resources or content is provided for convenience only.
For the use of any product, the applicable product documentation, including information guides, inserts and operation manuals should be consulted.
Copyright © 2022 Leica Biosystems division of Leica Microsystems, Inc. and its Leica Biosystems affiliates. All rights reserved. LEICA and the Leica Logo are registered trademarks of Leica Microsystems IR GmbH.