Tips & Tricks to Multiplexing: Top 5 Reasons to Multiplex and Chromogenic versus Immunofluorescent Detection
Multiplex staining is an advancement on the single marker per tissue section immunohistochemistry technique, enabling the detection of multiple markers simultaneously on the SAME tissue sample. Watch our 2 short videos below to learn more about multiplexing! Download the complementary infographics to keep the points on hand when you need to revisit the information.
Top 5 Reasons to Multiplex
Check out the infographic and learn with Larry from Leica Biosystems about the top 5 reasons to implement multiplex staining into your tissue-based research.
Chromogenic vs. Immunofluorescent Multiplex Staining
Unsure of whether to use chromogenic or immunofluorescent multiplex detection?
Larry from Leica Biosystems showcases the advantages and disadvantages of both types of detection.
Image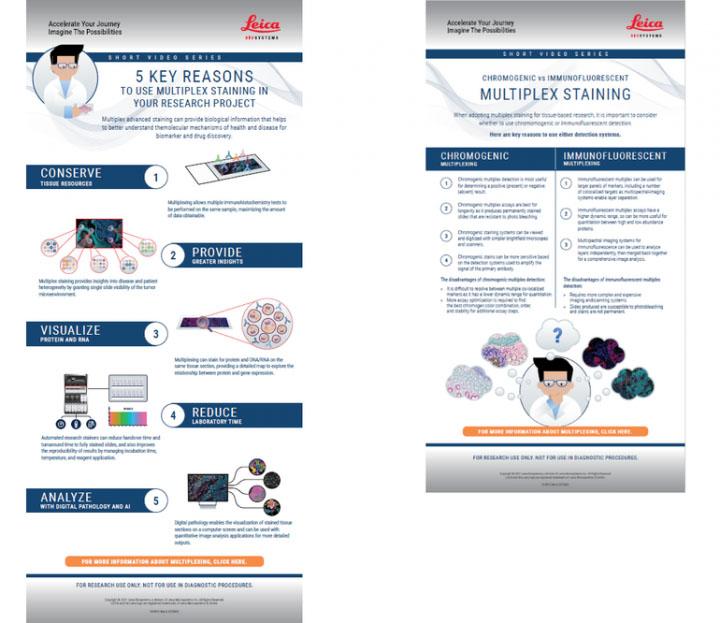 Leica Biosystems content is subject to the Leica Biosystems website terms of use, available at: Legal Notice. The content, including webinars, training presentations and related materials is intended to provide general information regarding particular subjects of interest to health care professionals and is not intended to be, and should not be construed as, medical, regulatory or legal advice. The views and opinions expressed in any third-party content reflect the personal views and opinions of the speaker(s)/author(s) and do not necessarily represent or reflect the views or opinions of Leica Biosystems, its employees or agents. Any links contained in the content which provides access to third party resources or content is provided for convenience only.
For the use of any product, the applicable product documentation, including information guides, inserts and operation manuals should be consulted.
Copyright © 2023 Leica Biosystems division of Leica Microsystems, Inc. and its Leica Biosystems affiliates. All rights reserved. LEICA and the Leica Logo are registered trademarks of Leica Microsystems IR GmbH.