4 Tips for Buying a Microtome
What should you look for when purchasing a microtome? Here, we offer 4 tips that will help you through the process. These tips are meant to be a helpful reminder of important considerations when making a purchasing decision.
TIP 1: Safety and Ergonomics
Image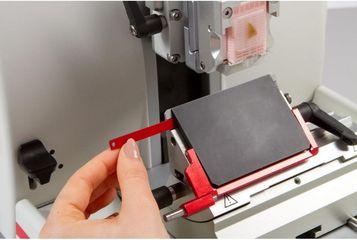 Keeping your lab staff safe is always of utmost importance. Especially when handling sharp blades, microtome users are at risk of cutting themselves. While one might expect that most cutting injuries occur during sectioning, we interviewed over 100 histology professionals to find out what they think. According to their responses, the highest risk for microtomy-related injuries comes from forgetting the blade when cleaning the microtome, followed by handling or exchanging the block and removing the blade. But that's not all. Many hours of repetitive arm movements with the hand wheel might cause discomfort and increase the risk of developing work-related muscosceletal disorders.
To minimize possible microtomy-related injuries, look out for a microtome that addresses these concerns by offering a majority of the following features:
Safety locks on the handwheel prevent the object head from moving, thus enabling the user to exchange specimens or blades, as well as adjusting the specimen orientation.
An object head which can be adjusted dependent on the object clamp size and weight, prevents it from accidentally dropping on the blade while sectioning quickly.
A safety guard covers the blade while the microtome is not being used. That enables the user to clean the microtome or exchange blocks without touching the blade.
A blade ejector and magnetic brush help to remove the blade from the blade holder without touching it.
An ergonomically designed microtome gives users the option to adjust the microtome to personal preferences, such as a customizable coarse feed wheel, helping to reduce strain on the shoulder.
If your lab staff prefers a manual coarse feed wheel for rock trimming, make sure that it is as close to the user as possible, to allow prolonged ergonomic comfort.
For improved safety and ergonomic features, consider a motorized rotary microtome:
A fully-automated microtome eliminates the need to spin the hand wheel by hand, thus minimizing microtomy-related muscosceletal disorders.
An emergency stop button on the instrument housing or foot switch immediately stops the motor in case of an emergency.
To prevent the microtome from starting uncontrolled motorized sectioning, the microtome should have a built-in safety mechanism, e.g. two separate buttons need to be pressed to start sectioning.
The hand wheel handle of motorized rotary microtomes can be centered to help avoid getting caught when the wheel turns.
A fully-automated microtome eliminates the need to spin the hand wheel by hand, thus minimizing microtomy-related muscosceletal disorders.
TIP 2: Good Section Quality is Crucial for Patient Care
Image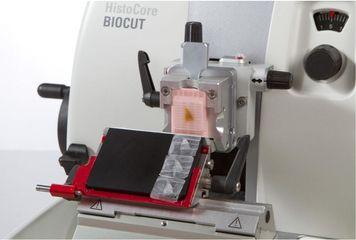 Because you are entrusted with human tissue, quality always comes first. When cutting sections from patient tissue, every section counts.
High quality sections are a result of multiple factors: precision, stability and quality of the individual components, including the following:

The precision of the feeding mechanism.
The stability of the microtome to ensure vibration-free sectioning.
Quality of the components e.g. blade and knife holders, specimen clamps and associated consumables (blades).

A precise specimen-orientation with zero-point reference allows for rapid aligning of the block and is ideal for re-cuts.
Using an optional electric specimen cooling device results in uniform section quality as the result of controlled specimen temperature.
TIP 3: Reliability / Brand Reputation of the Product
Image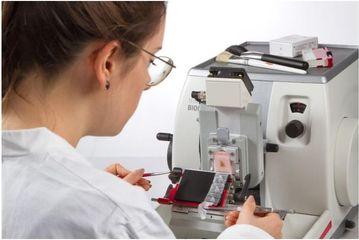 Ask yourself the following questions to narrow down your choices:
Should I consider buying a used microtome?
Buying a new microtome provides peace of mind, knowing the equipment has no prior history. Buying from a used equipment supplier bears the risk that the product has not been updated according to the guidelines of the manufacturer and thus does not work properly. Buying factory-refurbished equipment ensures that the instruments have been updated with original spare parts by trained personnel with factory warranty.
What are your peers saying?
Seek out others that use microtomes and find out what works and what doesn't. This includes site visits, customer product reviews, blogs, etc. This will help you gain the perspective needed for a decision in your lab.
Which companies/products are recognized as reliable in the industry?
Consider how long a company has been in the industry. More importantly, does the manufacturer have a high level of customer service at their command to ensure you are supported throughout the entire process? Beginning from sales, to delivery and installation, as well as after sales support.
TIP 4: Maintenance and Service
Image
A microtome is built to last, but when a service call is required, ensure that it is serviced appropriately by the manufacturer.
Confirm there are manufacturer-compliant and qualified engineers available to repair the microtome to extend its useful life.
Ensure the appropriate parts are available to service the instrument according to factory settings. Many third-party service providers may not have access to parts, and/or may not have immediate availability to parts, which can lead to downtime, ultimately affecting turnaround time and patient care.
Leica Biosystems content is subject to the Leica Biosystems website terms of use, available at: Legal Notice. The content, including webinars, training presentations and related materials is intended to provide general information regarding particular subjects of interest to health care professionals and is not intended to be, and should not be construed as, medical, regulatory or legal advice. The views and opinions expressed in any third-party content reflect the personal views and opinions of the speaker(s)/author(s) and do not necessarily represent or reflect the views or opinions of Leica Biosystems, its employees or agents. Any links contained in the content which provides access to third party resources or content is provided for convenience only.
For the use of any product, the applicable product documentation, including information guides, inserts and operation manuals should be consulted.
Copyright © 2023 Leica Biosystems division of Leica Microsystems, Inc. and its Leica Biosystems affiliates. All rights reserved. LEICA and the Leica Logo are registered trademarks of Leica Microsystems IR GmbH.