There are as many ideas about being "Green" as there are hues. Simply stated, it is anything that conserves our natural resources while protecting the environment, taking a long view of actions today that impact the future. Impacts are often viewed through the lens commonly referred to as the three pillars of sustainability: environmental, economic, and social.
Get Knowledge Pathway updates delivered directly to your inbox.
If you have viewed this educational webinar, training or tutorial on Knowledge Pathway and would like to apply for continuing education credits with your certifying organization, please download the form to assist you in adding self-reported educational credits to your transcript.
Sustainability - Why is it Important?
"Everything that we need for our survival and well-being depends, either directly or indirectly, on our natural environment. To pursue sustainability is to create and maintain the conditions under which humans and nature can exist in productive harmony to support present and future generations."1 Sustainability are the "abilities"- responsibility, capability, and equitability to minimize the impact on our people, planet, and economics.
How Can We Practice Sustainability in Histology?
Practicing sustainability in the histology laboratory shapes paradigms in four fundamental ways: minimizing our impact on the Earth, maintaining our well-being, decreasing the cost of waste management in the laboratory, and discovering new processes affecting our daily work. By embodying our community's determination to protect and preserve the environment's natural and economic resources, we become aware of our impacts.
What Types of Actions Can We Take to Make a Laboratory "Green"?
Recycling
Water conservation
Renewable or energy-efficient products
Efficient processes
Education
How Laboratories become Aware of Impacts: Greening Histology
Dr. Donella Meadows, an environmental scientist and thought leader on sustainability, used a system thinking perspective to identify interdependencies within systems.2 Evaluating the interwoven picture of the "greater whole" clarifies the greatest significance, indicating what to measure. Dr. Meadows states, "Indicators arise from values (we measure what we care about), and they create values (we care about what we measure)"3. A histology laboratory is a complex system where each step of the process influences and impacts the other parts. Information points, or indicators, act as guideposts when making decisions and planning our actions.3
New types of information must be gathered and shared when setting sustainability goals while developing a roadmap for creating green histology laboratories.
Image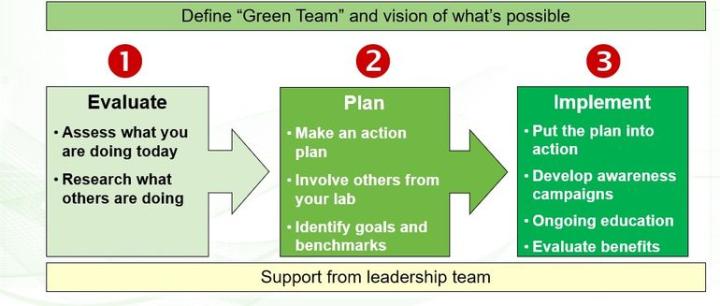 Key Performance Indicators (KPI) determine how to evaluate, plan, implement, measure, and monitor sustainability changes. Some KPIs for the histology laboratory are energy, water, supply, and waste. The ability to raise awareness of current practices that deplete resources creates opportunities for new ways of reducing, reusing, and recycling throughout the histology laboratory. "We must identify and understand the risks to human health and the ecosystem to enjoy a high-quality life."4
How Can the Histology Laboratory be Assessed?
Leica Biosystems Knowledge Pathway content is subject to the Leica Biosystems website terms of use, available at: Legal Notice. The content, including webinars, training presentations and related materials is intended to provide general information regarding particular subjects of interest to health care professionals and is not intended to be, and should not be construed as, medical, regulatory or legal advice. The views and opinions expressed in any third-party content reflect the personal views and opinions of the speaker(s)/author(s) and do not necessarily represent or reflect the views or opinions of Leica Biosystems, its employees or agents. Any links contained in the content which provides access to third party resources or content is provided for convenience only.
For the use of any product, the applicable product documentation, including information guides, inserts and operation manuals should be consulted.
Copyright © 2023 Leica Biosystems division of Leica Microsystems, Inc. and its Leica Biosystems affiliates. All rights reserved. LEICA and the Leica Logo are registered trademarks of Leica Microsystems IR GmbH.