Increasing Capacity Through Optimizing the Laboratory Layout
The Leica Biosystems' Process and Solutions team partnered with an academic medical center to examine how to optimize their anatomic pathology space and equipment. The client was most interested in the impact that restructuring the lab can increase efficiency and allow for growth in the histology and immunohistochemistry labs, as their space is insufficient for their needs. In addition, their furniture is immobile and aged. The Leica Biosystems' Process and Solutions team presented several options to help the client visualize a new layout to achieve their goals of increased capacity and efficiency for their space renovation.
After consulting with the lab directors and staff, the following proposal was created:
The renovated space allowed for:
Twelve Microtomy stations
Large dedicated area for Special Stains and Immunohistochemistry
Creation of Bench Supervisor's space (open)
Large workspace for Case Assembly
Increase in floor space for expandable microtomy/embedding to accommodate growth
Space for necessary items and storage for JIT consumable utilization
Flexible layout to adjust space as needed to account for new equipment and next generation items
Image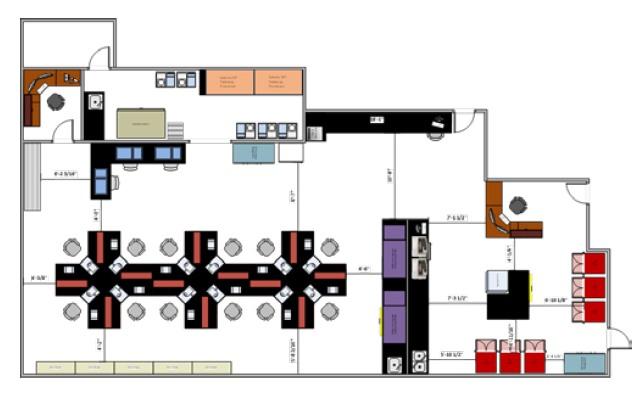 This proposal accommodated current volume plus an additional 76 blocks per hour embedding and 136 blocks per hour for microtomy. The additional space and equipment enabled a 50% increase in capacity for an 8 hour period.
Image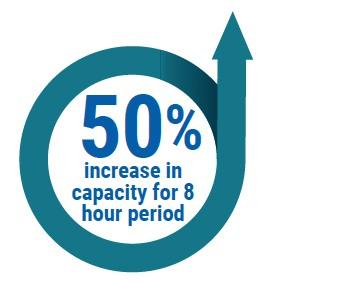 Projections and Realized Results are specific to the institution where they were obtained and may not reflect the results achievable at other institutions.
Leica Biosystems content is subject to the Leica Biosystems website terms of use, available at: Legal Notice. The content, including webinars, training presentations and related materials is intended to provide general information regarding particular subjects of interest to health care professionals and is not intended to be, and should not be construed as, medical, regulatory or legal advice. The views and opinions expressed in any third-party content reflect the personal views and opinions of the speaker(s)/author(s) and do not necessarily represent or reflect the views or opinions of Leica Biosystems, its employees or agents. Any links contained in the content which provides access to third party resources or content is provided for convenience only.
For the use of any product, the applicable product documentation, including information guides, inserts and operation manuals should be consulted.
Copyright © 2023 Leica Biosystems division of Leica Microsystems, Inc. and its Leica Biosystems affiliates. All rights reserved. LEICA and the Leica Logo are registered trademarks of Leica Microsystems IR GmbH.