Cryosectioning 101 for Research Q&A
John Stock from Leica Biosystems gave a webinar that provided a comprehensive guide on how to achieve better cryosectioning outcomes. He covered the installation and setup of the instrument, sample tissue preparation, freezing of the tissue and how to get better tissue sections.
The permanent attention to detail and many hours in front of the cryostat can be exhausting for the user, and customers had their own questions for John at the end of the webinar, and we have provided those questions and export answers for you here!
Questions included advice on tissue tearing, keeping sample at low temperature when working and preference for high, or low-profile blades.
We've compiled them all into an easy to navigate format that you can access right now.
Image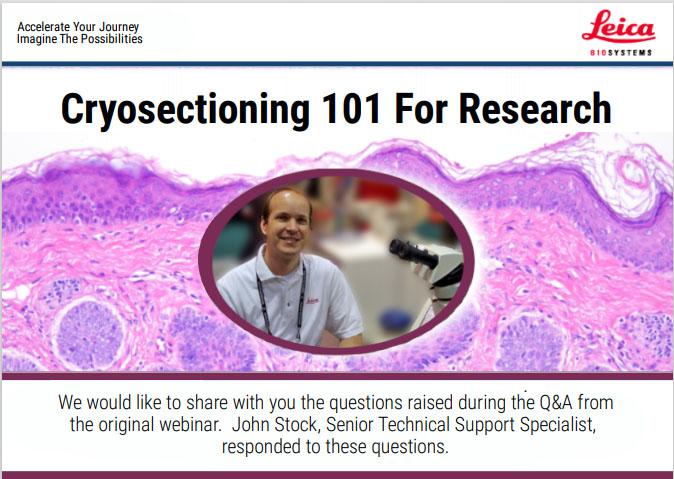 Missed the webinar? No problem! Get all of these tips and tricks for cryosectioning from the webinar here.
This article was created for Research Link, Leica Biosystems life science newsletter. Like what you read?
Image

Leica Biosystems content is subject to the Leica Biosystems website terms of use, available at: Legal Notice. The content, including webinars, training presentations and related materials is intended to provide general information regarding particular subjects of interest to health care professionals and is not intended to be, and should not be construed as, medical, regulatory or legal advice. The views and opinions expressed in any third-party content reflect the personal views and opinions of the speaker(s)/author(s) and do not necessarily represent or reflect the views or opinions of Leica Biosystems, its employees or agents. Any links contained in the content which provides access to third party resources or content is provided for convenience only.
For the use of any product, the applicable product documentation, including information guides, inserts and operation manuals should be consulted.
Copyright © 2022 Leica Biosystems division of Leica Microsystems, Inc. and its Leica Biosystems affiliates. All rights reserved. LEICA and the Leica Logo are registered trademarks of Leica Microsystems IR GmbH.